Holders of 10,000 to 100,000 ADA coins have increased their holdings.

Whale holdings, however, have dropped in the last year.
Cardano saw on-chain growth this year despite the downtrend.
Despite the persistent decline in Cardano's [ADA] price in the last few months, holders of 10,000 to 100,000 ADA coins intensified coin accumulation to hold their largest percentage of ADA's supply since June 2021, data from Santiment revealed.
Data from the on-chain analytics platform showed that this cohort of key ADA holders, commonly referred to as sharks, have been accumulating the altcoin steadily since June.
---
Read Cardano's [ADA] Price Prediction 2023-24
---
While FTX's unexpected collapse plunged many crypto assets, including ADA, to severe lows, these sharks remained undeterred and added ADA coins worth $83 million to their investment portfolios since 7 November.
As of this press, holders of 10,000 to 100,000 ADA coins held 11.61% of the coin's total supply. This meant that they held a cumulative of 4,096,661,348 ADA coins of the total supply of 35,285,627,462.
While ADA sharks ramped up accumulation in the past few months, whale addresses that hold between 100,000 to 10,000,000 ADA coins steadily let go of their holdings in the last year.
Per data from Santiment, this category of ADA holders held 33.5% of ADA's total supply at press time. They controlled almost 50% of the coin's total supply a year ago.
Source: Santiment
It is common knowledge that increased whale accumulation is a major contributory factor to an asset's price growth. However, with ADA whales dumping their holdings in the last year, ADA's value has dropped by 83% since December 2021.
---
A 33.54x hike on the cards if ADA hits Bitcoin's market cap?
---
Ups and downs for Cardano
With the year so far marked by a severe decline in the value of the general cryptocurrency market, the Cardano network saw some on-chain growth on a year-over-year (YOY) basis
According to Cardano Foundation, the network saw a 139% rally in the count of transactions completed on it. With 3.80 million active wallet addresses created on Cardano in the last year, the network saw its wallet count jump by 47%. Likewise, the count of native tokens on the Layer 1 network went up by 192%.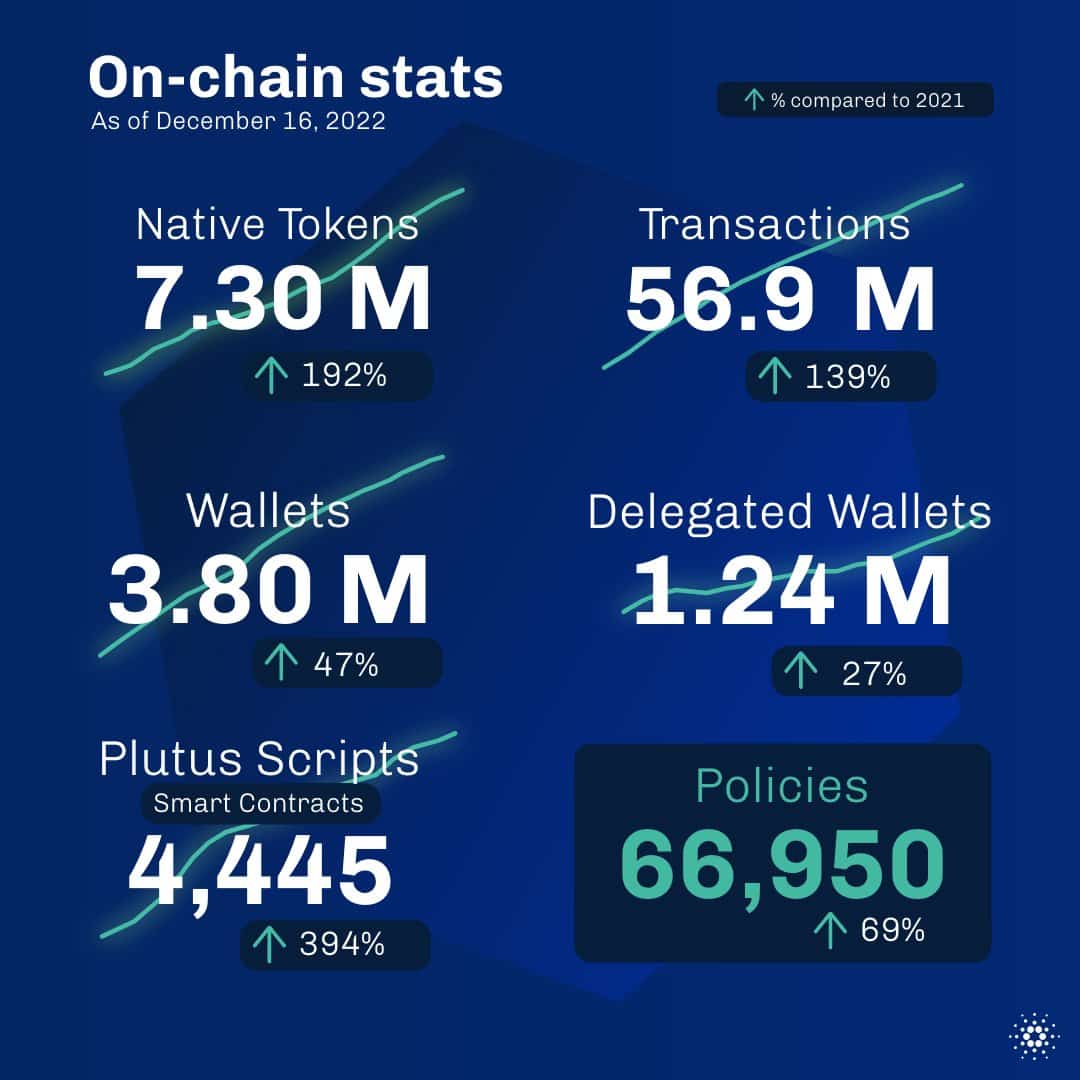 Source: Cardano Foundation
Despite the on-chain growth in the last year, the decentralized finance (DeFi) ecosystem on Cardano suffered a decline. Per data from DefiLlama, after the total value locked (TVL) of DeFi protocols housed within Cardano peaked at $326 million in March, it has since declined significantly to be pegged at $52.99 million at press time.
Source: DefiLlama
https://ambcrypto.com/cardano-sharks-intensify-accumulation-but-will-it-help-ada-this-time/